A lighthouse to the stateline for 3 decades
We offer a special blend of contemporary Christian music and Biblical teaching as well as encouraging messages and topical discussions
Now Shining Even Brighter
For 30 years, 88.3 WFEN has been a shining light for listeners through positive, family-friendly music and encouraging messages that affirm, inspire and even transform the lives of those we touch. We offer a special blend of contemporary Christian music and Biblical teaching as well as encouraging messages and topical discussions from people like Joyce Meyer, Dennis Rainey and others. Whether you're new to WFEN or a longtime listener, everyone at The Lighthouse welcomes you home.
7:00 – 9:00am: The Gospel Greats with Rodney Baucom
9am– 12:00pm: Gospel Country with John Tallacksen
NOTE: The James Garlow Perspective can be heard throughout the day at various times

Matt Miller will spend his weekday mornings with you, beginning at 6:00 on the Stateline's only live and local, full power contemporary Christian station.

Fred believes in Christian radio as a means of ministry and thinks that broadcast professionalism is an important part of that.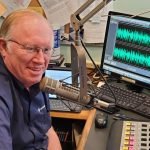 John started with WFEN in March of 2008 and continued for another four years becoming the longest running host of Gospel Country in its history.

Apostle Don Lyon ministered in the Northern Illinois – Southern Wisconsin territory since March of 1954. His program, Minutes that Matter still airs weekdays on WFEN.