A lighthouse to the stateline for 3 decades
We offer a special blend of contemporary Christian music and Biblical teaching as well as encouraging messages and topical discussions
Now Shining Even Brighter
For 30 years, 88.3 WFEN has been a shining light for listeners through positive, family-friendly music and encouraging messages that affirm, inspire and even transform the lives of those we touch. We offer a special blend of contemporary Christian music and Biblical teaching as well as encouraging messages and topical discussions from people like Joyce Meyer, Dennis Rainey and others. Whether you're new to WFEN or a longtime listener, everyone at The Lighthouse welcomes you home.
7:00 – 9:00am: 20 The Countdown Magazine with William Ryan III
9:00 – 12:00pm: Praise & Worship Music
12:00pm: Faith Center AM Service
1:00pm: "Worship & The Word" with Robert Morris
1:30pm: Eternity In Mind with Apostle Felix Okoroti
NOTE: The James Garlow Perspective can be heard throughout the day at various times

Matt Miller will spend his weekday mornings with you, beginning at 6:00 on the Stateline's only live and local, full power contemporary Christian station.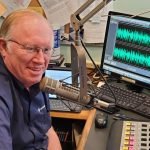 John started with WFEN in March of 2008 and continued for another four years becoming the longest running host of Gospel Country in its history.

Cori Blake is new to the radio world but was destined for it since she started talking at just 7 months old and hasn't stopped since!